Menus aren't the only thing we do.
Seattle Menu offers a wide variety of other printed products that you might find useful in your restaurant. Business Cards, Postcards, Wine Labels, Gift Certificates, Stationery, Annual Reports, Mailers, Invitations and more. If you can think of it, we can make it.
Take a look at some of the sample photos shown here. If you don't see what you're looking for, call us at (866)732-3927! We're here to answer all of your questions.


Table Tents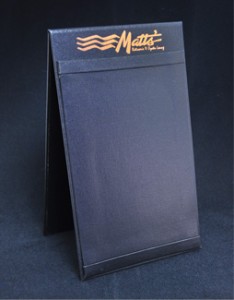 Grab the attention your menu items deserve with table tents custom designed for your exact insert needs. Choose materials that match your menus, or choose plastic stand-up holders that enable you to quickly and easily swap-out different promotional inserts. With foil dies, embossing, silkscreening and decorative corners, we can make sure to make an impact with your customers – and increase special orders!
Lamination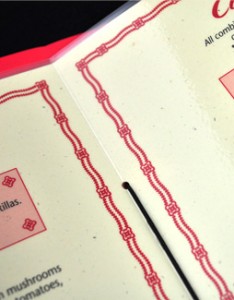 Lamination is the key for the preservation of your printed menus and menu inserts; it ultimately saves you money over the short and long run. Whether you have a tri-fold menu or wine list, we have the right lamination finish and thickness for your needs.Available in different mL thicknesses and gloss or matte finishes, lamination will repel messes and spills, extending the life of your printed menus. Offered in flush trim and encapsulated, call Seattle Menu for details, or request samples using our easy-to-use Samples Request Form.
Printed Hardcovers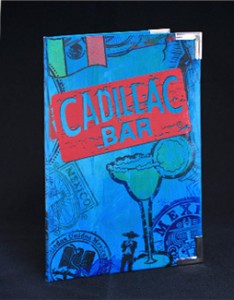 One of the most stylistic menu options at Seattle Menu are our Printed Hardcover menus. Choose either a DuJour® or DuSaison® Cover for a custom designed, printed and laminated piece of art.Whether it is a 4-color printed design (as shown to the right), or one of more colors, you can combine printed panels with an imitation leather spine for extra durability and a unique style.
Print extra master panels to lower your unit cost and for future menu production. You can be sure that if you contact Seattle Menu, we will design a menu and a budget plan that will serve you over the short and long term. Contact us to discuss YOUR solution today!
Multi Unit Ordering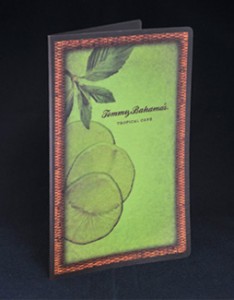 No matter how large or small your restaurant might be – or even if you have a chain of restaurants – you can be assured that Seattle Menu can fulfill your order.
We service all sizes and types of restaurants: Tommy Bahama's is one example shown here. Use the Quote Request Form to find out how Seattle Menu can help you; or call us direct for a Free Phone Estimate.